Sawing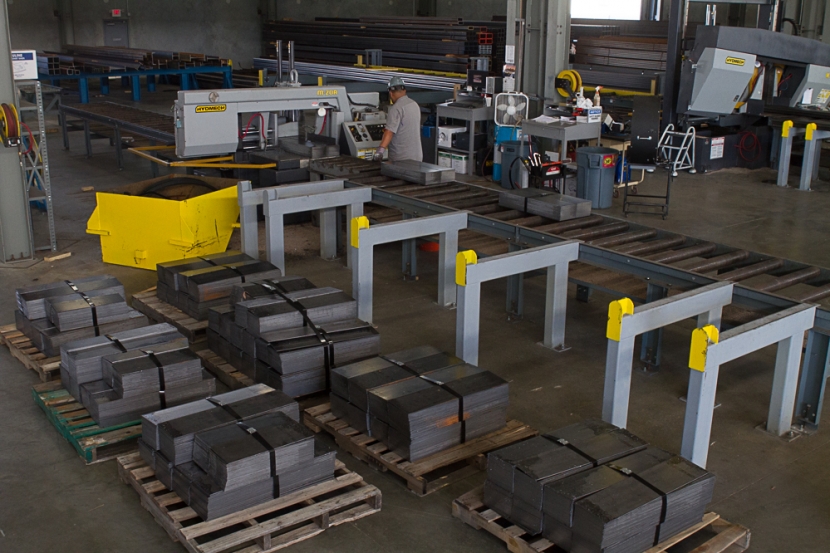 Features
Hyd-Mech H32A horizontal band saws with automatic feed
Hyd-Mech M20 miter saw with automatic feed
HEM saw
Cut capacity up to 32" x 28"
Our array of premium saws process structural steel, and other metal accurately and efficiently.
Our largest saw, the Hyd-Mech H32A, has a cutting capacity of 32" by 28". Large materials or bundles of smaller material are no match for this machine. Our Hyd-Mech M20 miter saw has a 20" capacity and a 60-degree range (30 -90).
No quantity is too large. Just tell us the lengths, quantities, and specs you need and leave the rest to us.
Your custom specs are input into specialized software that tells the saws how far to auto feed the material between cuts and what angle to cut it. Our fully automated saws take care of the rest ensuring precise, reproducible cuts. Our skilled operators standby to monitor the process to guarantee superior quality.
In the video above we are working on a job that involved processing aluminum square tubing to for a customer to use in an air intake system. A crane placed each 24-foot-long 8" Square tube onto the miter saw conveyor. The saw then cut each tube into seven 31" sections and partially mitered each end at a 45-degree angle. Operators used compressed air to remove metal shavings from the finished pieces and then stacked them on pallets to the end customer for final fabrication. Leaving the sawing and mitering to us saved our customer valuable time and allowed them to finish their project on time and under budget!