Humans of Steel Supply: Jose Cañas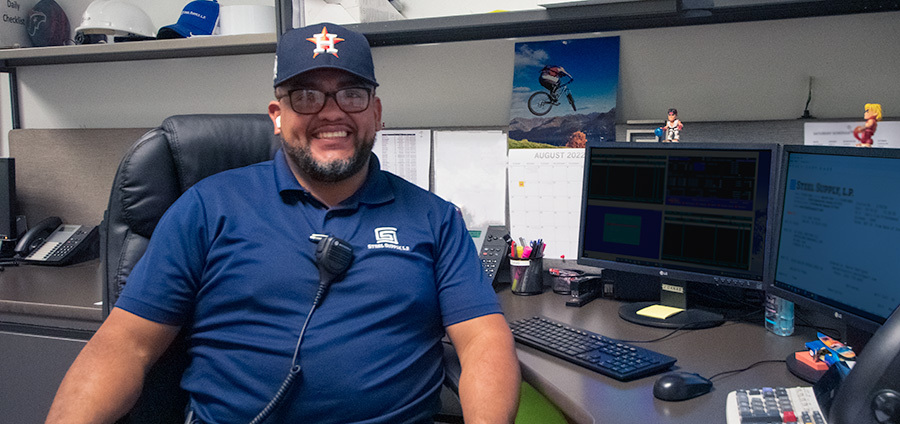 Jose Cañas is a Senior Leadman at our northwest location; he has been working at Steel Supply, L.P., for 14 years. He started working Operating a saw in 2008 and then transitioned to different roles. As a senior leadman, Jose supervises warehouse employees, which means he ensures they are always working in a safe environment, that orders are being fulfilled, and that customers are being helped.
Safety at Steel Supply, L.P., is our main priority, and Jose ensures everyone follows safety guidelines when operating heavy types of machinery like our overhead cranes or forklifts. "Everyone wants to be able to come to work and go home, and we never have had any major accidents," Jose said. Jose goes on to explain how important it is for him to be vigilant about how others operate the machines, ensure they are being handled correctly, and always try to help them out. Jose also talked about how warehouse employees watch out for each other and help keep everyone safe.
As for making sure orders are being fulfilled at Will Call, Jose said he enjoys seeing repeat customers and building relationships with them or our employees. "Clients look for us, and we appreciate that; we care for them!" Jose said.
What are your favorite things about working here in your 14 years?
"I love the atmosphere; I like that it's busy, and I like working with coworkers. I also like that the company continues to grow; I like it; you learn something new every day," said Jose. He also mentioned it is inspiring to see the growth in other departments at SSLP; it motivates him to be part of that growth.
What is life like for Jose outside of SSLP?
"I am laidback. I have two twin girls that are 10-year-olds, and I do a lot of mountain biking on the weekends with my brothers and cousins, party occasionally, but I'm mostly a laid-back family guy," said Jose.
If you see Jose at our northwest location, feel free to wave and say hi to him!
---