Humans of Steel Supply: Angel Faz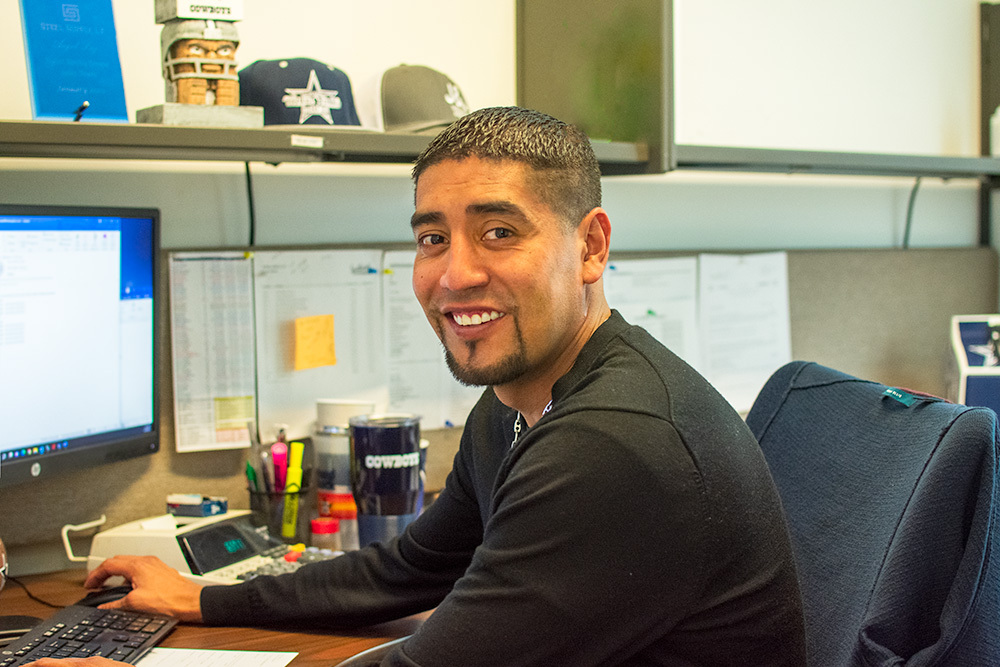 Angel Faz works in phone sales in our Northwest location. Over five years ago, Angel used to work at the sales counter at his previous job, which helped him land a sales counter job at Steel Supply, L.P.
After a year of working at the sales counter, he moved up to phone sales. Angel has been a great member of the SSLP team for five years.
Angel said being in phone sales allows him to help many clients over the phone. Thankfully because his office is close to the sales counter, he can continue helping clients in person, which he enjoys too. He likes having the diversity of assisting clients both over the phone and in person.
As Angel has the opportunity to make connections with clients, he states it has helped him learn how to communicate and create better relationships with customers.
What is your favorite thing about your job?
"The guys that we work with and with the whole group, it's a great atmosphere. I love coming here!" said Angel. He says that every day is different and new at the office; he looks forward to it, and having great colleagues makes his work even better.
Life outside Work
Outside of work, Angel describes his day as laid-back. Occasionally he will go out for a drink with colleagues to a fun bar or enjoys playing soccer. His favorite soccer team is Real Madrid. He also has the cutest 3-year-old daughter!
Angel is a Houstonian and loves the city and states it has grown a lot over the years that there is always something to do.
How much has SSLP changed since you started working here?
"It's been growing, and it's been a blessing working here. Since when I got here, it has grown a lot since then. The volume of the material we sell, when I got here, there was not as much as what we have now," said Angel.
Angel wants everyone to know "that this is a great company, we are growing a lot. The atmosphere is great, and the people make it better."
---