Types of Flanges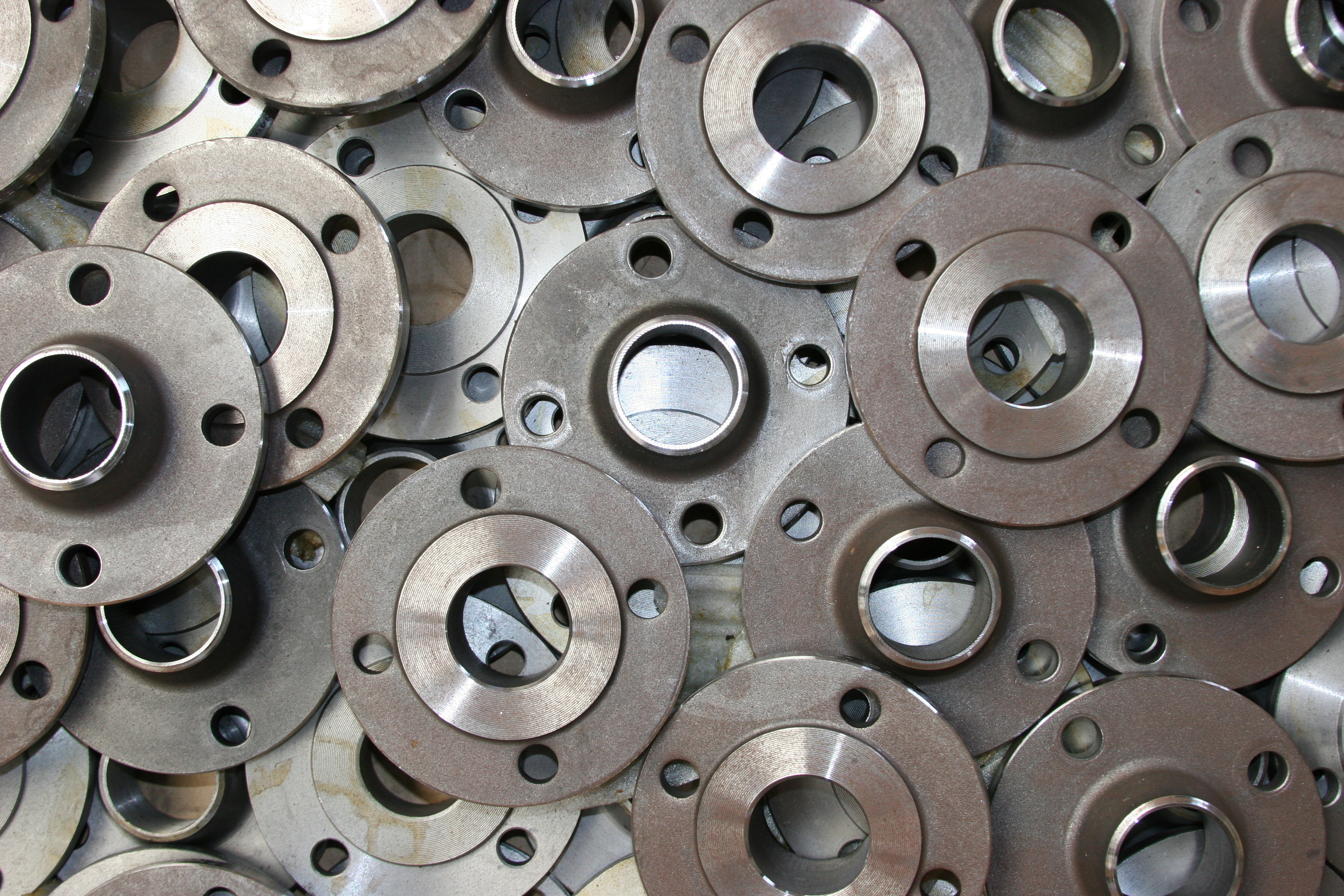 What is a Pipe Flange?
Pipe flanges provide a method of connecting pipes, valves, pumps, and other equipment to form a piping system. They also allow easy access for inspection, cleaning, and modifications. Two flanges are bolted together with a gasket in between them to create a flanged joint.
The types of flanges are:
Slip-on
Blind
Lap-Joint
Socket Weld
Threaded
Weld-Neck
Tank
Malleable Iron Floor
SLIP-ON FLANGE
This flange is slipped over the pipe and is settled by welding at both the top and base side of the flange. They are used to provide sufficient strength to the connection and prevent leakage.
BLIND FLANGES
Blind flanges are round plates with all relevant boltholes but lack a center hole and thus are used to close off the ends of a piping system or a pressure vessel opening. This flange without a bore, also known as a blanking flange, is used to fix or seal an end of a piping framework or shut off a piping system or vessel opening. Inspecting vessels or piping systems is easier, and it is simpler to access them. Depending on the requirements, a blind flange can be supplied with or without a hub.

LAP-JOINT FLANGES
This is similar to a slip-on flange but has a radius at the intersection of the bore and the flange face to accommodate a lap stub end. The face on the stub end forms the gasket face on the flange. This flange type is used in applications where sections of piping systems need to be dismantled quickly and easily for inspection or replacement.
SOCKET WELD FLANGES
This is similar to a slip-on flange in outline, but the bore is counter-bored to accept pipe. The diameter of the remaining bore is the same as the inside diameter of the pipe. The flange is attached to the pipe by a fillet weld around the hub of the flange. An optional interval weld may be applied in high-stress applications. Its biggest use is in high-pressure systems such as hydraulic and steam lines.
THREADED FLANGES
Threaded Flanges have a bore with tapered threads and connect to pipes that have external threads. The primary benefit of Threaded Flanges is that no welding is required to attach them.
WELD-NECK FLANGES
As its name suggests, this is a flange attached by welding the neck of the flange to a pipe. It is more suitable for high-stress applications because the neck provides important reinforcement to the flange. The flange bore matches the pipe's bore, reducing turbulence and erosion.
TANK
Tank Flanges are welded onto a hole on the flat surface of a tank, creating a connection for a threaded pipe. Tank flanges are most commonly used to connect a pipe to a vessel or tank. They work well in high-pressure situations.
MALLEABLE IRON
Malleable Iron Floor Flanges secure pipe to the floor or wall. They are manufactured with female threads to attach piping easily. Floor flanges are commonly used for plumbing and home fixtures. The female thread on them creates a secure support for any male-threaded pipe to be screwed into it.
FLANGE FACES
RAISED FACE FLANGES
The Raised Face (RF) type is the most applied flange face and is easy to identify. It is referred to as a raised face because the gasket surfaces are raised above the bolting circle face.
FLAT FACE FLANGES
The Flat Face (FF) flange has a gasket surface in the same plane as the bolting circle face. Applications using flat face flanges are frequently those in which the mating flange or flanged fitting is made from a casting.

---