What's Inside the Plastic?
The package above is Steel Square Tubing all wrapped up and ready to ship out to a customer in California by LTL freight.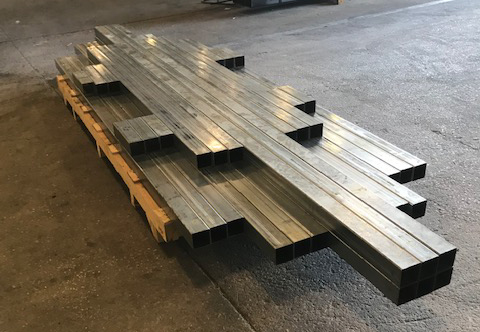 This particular customer located us on the web and called with specific cutting instructions.
There are 11 pieces of 24-foot Galvanized 3 inch 11 gauge square tubing, custom cut to the customer's specifications.
We cut it and drilled some holes, also specified by the customer.
We carefully stacked it on a pallet, and it is now ready to be strapped down and wrapped for protection.
This picture shows the steel straps that are applied to ensure the tubing is secure to the pallet.
You can also see the plastic heat shrink wrap, ready to be sealed up into a protective cocoon.
After heat is applied, the entire unit will look like the top picture.
It is then ready for an LTL (less than load) freight carrier to pick up from us and send it on a journey to California.
---